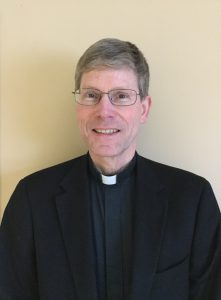 Fr. Mark Seiker
Current Pastor: Fr. Mark Seiker
A few words of introduction: I grew up on a farm a mile north of the little town of Elmwood, which is East of Lincoln. My parents (Vincent and Theresa Seiker) lived on the farm all their lives until they retired and moved to Lincoln in 2000. They are members of St. Peter Parish (45th & Old Cheney) in Lincoln. I was ordained a Priest for the Lincoln Diocese in 1984, and I have served in parishes in Hastings, Nebraska City, Bellwood, McCook, Beatrice, Imperial, and now in North Platte.
History
Click to see pictures of the building of the new church. 
In January 1970, the Diocese of Lincoln, under the leadership of Bishop Glennon Flavin, bought the approximately 10 acres of land on which St. Elizabeth Ann Seton Parish Hall, Rectory, and Church have been built. The parish was officially created on June 14, 1994, by Bishop Fabian Bruskewitz.
June 13, 1994 | Fr. Gary Brethour (First Pastor)
August 21, 1994 | First Sunday Mass. Sunday Masses were held in the cafeteria of the Mid-Plains Vocational Technical College until the Parish Hall could be built.
October 4, 1994 | Purchased first Rectory on west Walker Rd
March 24, 1996 | First Mass was prayed in the new Parish Hall
October 20, 1996 | First Pumpkin Festival
June 14, 1999 | Fr. Tom Brouillette (Pastor)
September 2001 | New Rectory and Parish Office completed
June 13, 2004 | 10th Anniversary of the Parish; Bishop Fabian Bruskewitz was the main celebrant of the 10:00am Mass at St. Elizabeth Ann Seton Parish Hall.
June 14, 2004 | Fr. Brad Zitek (Pastor)
July 2006 | Msgr. Ivan Vap (Administrator)
August 1, 2006 | Fr. Joe Walsh (Administrator)
June 18, 2007 | Fr. Mark Seiker (Pastor)
April 17, 2010 | Groundbreaking for the new Church.
October 2, 2011 | Dedication of the new Church by Bishop Fabian Bruskewitz
June 7, 2019 | 25th Anniversary celebration (6:00pm Mass with Bishop James Conley as celebrant)
"As we look to the future, there remains little doubt that the sacrifices made by our parish family have challenged all people to live a faithful Catholic life based on the Traditions and Legacy of the Faith." – Fr. Gary Brethour
Lord God, You blessed St. Elizabeth Ann Seton with gifts of grace as wife and mother, educator and foundress, so that she might spend her life in service to Your people. Through her example and prayers may we learn to express our love for You in love for our fellow men and women. We ask this through our Lord Jesus Christ, Your Son, who lives and reigns with You and the Holy Spirit, one God, forever and ever. Amen.